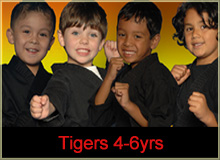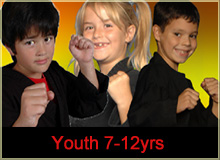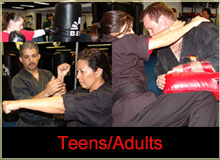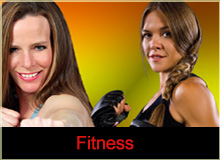 welcome to Power of One Martial Arts and Fitness
Helping kids and adults to reach the next level
The Power of One Self Defense Institute has been empowering humanity through the teachings of self - defense skills, kenpo karate, jiu-jitsu and kickboxing for over 25 years. Certified in American Top Team MMA and American Kenpo, our instructors are personally selected for not only their skill and achievements in the martial arts but also their ability to effectively relate that knowledge and understanding to students of all age levels and backgrounds.
Founded on the principles of teaching excellence, personal development, and Perseverance, Power of One Self-Defense Institute provides you with the most complete and effective methods to reach your full potential and achieve your highest goals in life. Our energetic staff excel at instilling these life skills in all of our martial art, self -defense, kenpo, kickboxing, jiu jitsu, fitness and karate classes. Techniques are taught to instill a confident "I Can" attitude while instilling discipline and mental focus for everyday life. And as mind and body are so connected all classes are taught to maintain a good level of physical fitness.
Great article on how to improve Self Esteem in our children! Although the Power of One Self-Defense Institute separates itself from others with it's unique blend of both stand up and ground defenses for all ages, it is our honest sincere dedication to customer service that truly sets us apart from the rest. Via our teachings of "Bully proofing" and "Focus for better grades" seminars through out Long Beach Unified Schools to "Stranger Awareness" and "Women's Self-Defense" seminars to surrounding colleges and larger corporations, the entire staff of the Power of One is committed to best serving our families, students and members and as such, we now have multiple locations to better serve our community.

Check out one of Long Beach's most popular Summer camps here! Summer camps are nearly full.
Power of One Location in Long Beach, CA
(562) 997-2987
3821 Long Beach Blvd. 90807
info@powerofonekarate.com
Power of One Location in Long Beach, CA.
(562) 494-7500
4732 E. Pacific Coast Highway. 90804
info2@powerofonekarate.com

Power of One Location in Carson, CA.
(310) 515-1155
940 E. Dominguez Street. #Q 90746
info@powerofonekarate.com

Newest Power of One Location in Lakewood, CA.
(562) 202-4500
6170 Bellflower Blvd. 90713
tami@powerofonekarate.com
Now Open and taking enrollments!